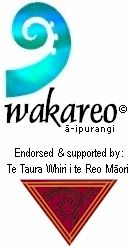 Pricing info!

Subscribers click here
Now you can subscribe to an on-line lexicon that gives you browser access to the largest repository of Māori dictionary resources available
Wakareo ā-ipurangi (on-line) is a living, growing resource that gives single-search access to a huge existing repository of Māori - English - Māori terms and meanings!
But more than this, Wakareo gives you instant access to new Māori words, as they are released, - and retrieved words from history, as they are uncovered!
CORE CONTENT includes:
Wordstream's WILLIAMS corpus
Wordstream's TREGEAR exceptions
English-Māori dictionary, H.M. Ngata
Te Matatiki contemporary words
Kimikupu Hou contemporary words
He Kupu Arotake educational terms
Kupu Rorohiko I.T. terms
Ngā tini a Tangaroa fish names
SEARCHING
Wakareo is as easy and intuitive to use as your favourite Web portal...
SEARCH is a quick and simple method of finding every instance of a word or phrase (Māori or English) from within Wakareo - and if you're searching for a Māori word - you don't have to worry about macrons - Wakareo will find all the variances for you!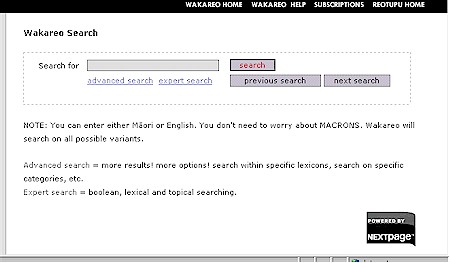 Clicking on "search" results in the display of the first relevant entry, and below, a "hit list" showing the number of hits, and the resource they come from.
You can move from hit to hit using either the lexicon entry window or scroll the hit list and look at only those entries that you're interested in...
Lexicon search results display screen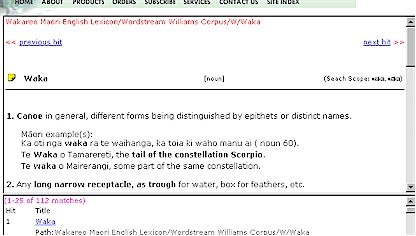 ADVANCED SEARCH lets you refine your searching - very useful when you want to reduce the number of "hits" you'll get and increase the relevance or accuracy of what you're looking for.
With advanced searching you can search on head words only, or all of Wakareo - and apply either criteria to: all resources, main dictionaries, or any nominated resorce.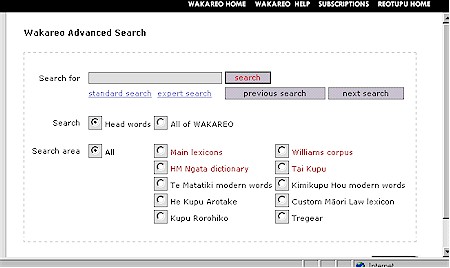 EXPERT SEARCH
When you have specific search objectives in mind, "Expert Search" allows you to narrow your search according to any one of ten criteria:
Find all entries containing:
all your search terms
none of your search terms
one or more of your search terms
the exact phrase you've typed
these words near each other
all words starting with this base word or prefix
all words ending with this base word or suffix
all words that contain this base word (nested)
search by topic (38 inaugural topics)
search by part of speech (35 parts)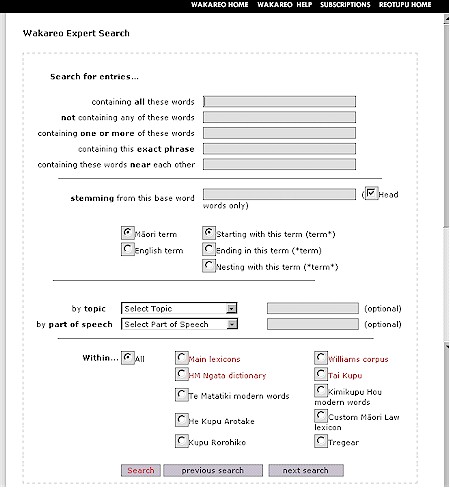 Any of the search types listed above can be applied to an individual lexicon, grouped lexicons, or the entire Wakareo compilation.